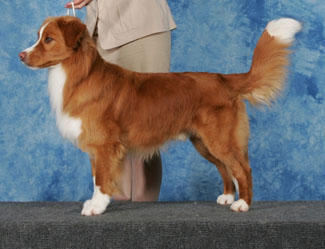 BPIG CH Katyra's Winter Silas CD WCI
(Outagami's Winter Snow ex Otch Ch Kishkahdina Tyra WCI JH CGC)

Standing at Stud to approved bitches

Hips and Elbows OVC 0038107
PRA Pattern "B"
Heart OFA DTR-CA442/44M/C-PI
*CERF NSD-963
CEA Clear
Brucellosis Tested Negative April 2009
19.5" tall
Born August 5th, 2004


Pedigree
Born August 5th 2004, Silas was the keeper from the first Katyra litter. I had intended on keeping a girl from that litter, but Silas stood out, not only in personality but in his very correct structure and clean movement from a very early age. And so I had another boy to add to the bunch!
Silas, as I expected, stood out in the show ring coming away with several nice wins as a puppy. Multiple breed wins, over Specials and the icing on the cake, a Best Puppy in Group win at 10 months of age! Silas picked up his final points going Best of Breed from the Bred by Exhibitor class at 1 day over 1 year of age!
The boy is not all looks though ! Silas is very high drive, and although we have had some confidence issues (he over thinks everything) he is a retrieving fool.
In 2007 Silas completed his CD passing 5 out of 5 trials he was entered in, winning High In Class in all 5 trials with good entries and with scores ranging from 196-197 1/2. The boy is smart as pretty and proved it two weekends later taking a Group 2nd at the KW show in Kitchener, Ont.!
Silas obtained his WC in 2008 and 6 weeks later got his WCI with minimal training on doubles. He loves field work and any confidence issues are far behind him !
Beyond that Silas is the sweetest Toller you will ever meet. He's received many wonderful comments about his temperament from vets and others. Someone once asked me (while petting Silas who was upside down for a belly rub) if it wasn't true that Tollers were supposed to be "reserved with strangers", my response was yes they are, but apparently I'm breeding them wrong !
Silas has been visiting at a hospital and he has not met anyone that he isn't positive would like a lap dog. He has an almost cat like way of lightly jumping into your lap and curling up in a little ball. He's also mastered the art of leaping up into my arms, something none of the other dogs will do, so he figures it makes him special ! To me he's special anyway!
---




---