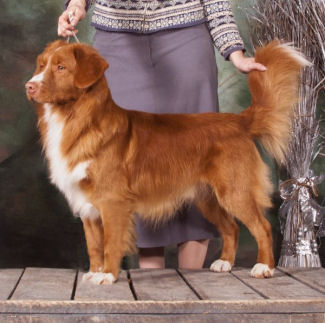 MBPIS MBPIG CH Katyra's Flying Solo CGN
(CH Katyra's Winter Silas CD WCI ex AM/CDN CH Honeyrun's Hijinks At Keepsake)

Male
Born July 20th, 2009
CEA Clear by Parentage
PRA Clear
Hips/Elbows OVC Normal
CERF Normal 2011
Thyroid OFA Normal
Heart OFA Normal

Solo is an easy going puppy with a lot of bone, substance and beautiful side movement, and very clean coming and going.
He learns quickly, has an independent nature and gets along with everyone !
Solo made quite the show debut at the Wildwood show in February 2010.
Day one, he takes Breed for his first point.
Day two, Best of Breed over a Special for another 2 points and on to win Best Bred By Exhibitor in Group in a good entry of BBE dogs !
Day three Solo wins the Breed again and continues on to a Group 4th and Best Puppy in Group !
In three days at just 6 months old Solo picked up 7 points and as of Feb. 7th was ranked #2 Toller in Canada.
Solo's fourth time in the show ring he completes his Championship with another Breed win followed by another Group 4th and Best Puppy In Group !
Solo continues his winning ways, making the cut at the Purina National and winning Best Puppy In Group ! As well a Group 2nd/BPIG at the Scarborough show, and a Group 3rd/BPIG at the Norfolk show !
In April Solo took a Group 2nd and another BPIG at the Victoria County Kennel club show handled by friend Jo Anne Griffith.
May brought a lot of excitement, where at the Forest City Kennel Club show Solo won the Puppy Group all 3 days as well as another Group 4th and went on to win Best Puppy in Show the last day !
At the KW show he took his 10th Best Puppy in Group win !
In June at Erie Shores he picked up yet another Best Puppy in Group, his first weekend showing outdoors. The following weekend we trekked up to the Ontario County show and came away with a Group 4th and Best Puppy in Group !
The June fun continued at the Monarch show, winning Best Puppy in Group both days (#'s 13 and 14) and on to his second BEST PUPPY IN SHOW win !!!
Solo's puppy career ended with a bang as he racked up a total of 21 Best Puppy in Group wins and 5 Best Puppy in Show wins, a new record for the Breed ! At just over a year he continues to place in the Groups and won the Sporting Group at the Purina Classic Puppy competition in September 2010 !
Solo is currently ranked #2 Toller in Canada and #1 Sporting Puppy in Canada.
Solo will be standing at stud on a limited basis in late 2011 to approved bitches.
---


















---