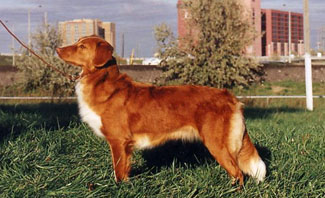 HIT OTCH CH Kishkahdina Tyra WCI JH CGC
(Berdia Judd Of Kishkahdina AGN ex Tollhaven In A Rush)
The foundation bitch for Katyra Kennels, Tyra was born February 26th, 2000 and bred by John and Barb Mitchell. Tyra has become my right arm and has excelled in all her endeavours.
Tyra received her first leg of her Companion Dog title at 8 months of age with a 193 and a High In Class. She easily completed her CD by a year of age with scores in the 190's.
In 2002 Tyra completed her Canadian Championship with two majors, including a 4 point Best Of Winners at the Toller Booster in Kitchener.
In 2002 Tyra was kept busy, completing her CDX with scores of 196, 197 and a 194. She continued to compete in Obedience and became the #1 Toller in Canada and #11 all Sporting Breeds for 2002. She earned back to back High In Trials along the way at the South Western Ontario Sporting Dog Specialty.
Somewhere in between becoming a Champion and the #1 Obedience dog Tyra found time to earn her Working Certificate title, showing a lot of drive in the field.
In 2003 Tyra competed at the BDOC HIT of HITs in Ottawa. This competition is open to any dog earning a High In Trial in Canada with a score of 195 or more. She tied for 5th out of the 16 dogs entered in her class (Open).
Tyra continued her field training and earned her Working Certificate Intermediate title in 2003 as well as two legs towards her Junior Hunter title.
In 2004 Tyra went on maternity leave and was leased to John and barb Mitchell for her first litter. Out of the three boy puppies whelped Dillon was the keeper for me!
Towards the end of 2004 Tyra blessed me with the first Katyra litter in which Silas was the keeper.
It didn't take Tyra long to get back in shape for 2005 to complete a long time goal of ours, her Canadian Obedience Trial Championship! She completed this in three straight trials all with scores in the 190's and a High in Class as well as a 2nd in class (and a fourth pass with a 195/High in Class!), at both indoor and outdoor trials. The following weekend she pushed through thick reeds well over her head and completed her Junior Hunter title. I could never be more proud of this girl.
Towards the end of 2005 Tyra whelped her final litter and the second Katyra litter from which Mensa was the keeper.
Tyra is currently working on her OtChX title.
---




---